Gillian Mitchell

Gillian Mitchell is the resource manager at a leading professional services firm. She has over 15 years" information experience in a variety of roles from a researcher, delivery lead for self-service research & knowledge tools, and is currently responsible for the purchasing and managing of information resources in the UK firm.
Articles by Gillian Mitchell:
---

Keeping Commercial Awareness Up To Date: FreePint for Professional Services Firms
Tuesday, 22nd April 2014
Gillian Mitchell demonstrates how FreePint can help professional services organisations keep their commercial awareness up-to-date as well as keep on top of new products and developments in key issues from compliance to news and social platforms.
What's new at Jinfo?
Jinfo Overview - August 2021
View on YouTube
---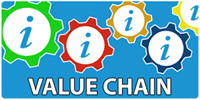 Five newly recorded webinars on how to complete the activities in our Focus on Value Chain now available.
---
Express value the way stakeholders do with Value Chain analysis
"I can now sit in a meeting with my stakeholders and articulate the role information plays in their workflows. They understand our contribution to their success." Information Senior Scientist, heavy manufacturing industry
---
With Jinfo Consulting, you get accountability, fine-tuned guidance and industry-wide perspective.