Julie Keys

Julie Keys is legal information manager at Fox Williams, a commercial City law firm, which has a reputation in employment, fashion, corporate and legal practice law. She also works as a freelance librarian with Steptoe and Johnson and Jeffery Green Russell.
Julie started work in London as a librarian with architects and engineers and moved to law 20 years ago. Find her on LinkedIn.
Articles by Julie Keys:
---

My Favourite Tipples from a Legal Information Manager
Wednesday, 21st May 2014
My Favourite Tipples are shared by Julie Keys, legal information manager. Julie works with lawyers across almost all practice areas both with an employer and in a freelance capacity.
What's new at Jinfo?
Jinfo Overview - August 2021
View on YouTube
---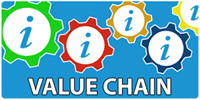 Five newly recorded webinars on how to complete the activities in our Focus on Value Chain now available.
---
Express value the way stakeholders do with Value Chain analysis
"I can now sit in a meeting with my stakeholders and articulate the role information plays in their workflows. They understand our contribution to their success." Information Senior Scientist, heavy manufacturing industry
---
With Jinfo Consulting, you get accountability, fine-tuned guidance and industry-wide perspective.