Clare Brown

Clare Brown is a qualified library and information professional with over 25 years" experience. Her areas of expertise include current awareness, legal and business research, management and administration of small legal libraries, and knowledge management issues. In her current role, she provides client support for a news aggregator, writing how-to guides and developing new services.
In her other life, she enjoys travelling and living abroad, sampling and cooking with local ingredients to entertain friends, and creating, maintaining and writing for various blogs. Find Clare at clare@vable.com and on LinkedIn.
Articles by Clare Brown:
---

My Favourite Tipples from a news aggregator topic specialist
Wednesday, 25th July 2018
My Favourite Tipples are shared by Clare Brown, an experienced library and information professional and topic specialist in law at current awareness platform provider Vable. She shares some of her most-used resources in areas from project management to CPD and ship identification.
---

My Favourite Tipples from a Solo UK Law Librarian
Wednesday, 21st January 2015
My Favourite Tipples are shared by Clare Brown, a library and information professional with 20 years' experience in the legal sector. She shares her favourite blogs, apps and sites in areas from current awareness to responsible media, and efficiency.
---

Evolution in the Legal Information Market
Thursday, 26th June 2014
Clare Brown looks at key developments in the legal information sector and highlights key areas to watch including ebooks, federated search and alternative methods of database access.
---

Social & Savvy - FreePint for Legal Professionals
Monday, 16th June 2014
Clare Brown examines how FreePint can help legal information professionals. She highlights articles evaluating Nexis, a business and news product, as well as those on social enterprise within and outside the organisation. Most importantly she includes articles about how legal information centres can prove their worth to management.
What's new at Jinfo?
Jinfo Overview - August 2021
View on YouTube
---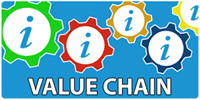 Five newly recorded webinars on how to complete the activities in our Focus on Value Chain now available.
---
Express value the way stakeholders do with Value Chain analysis
"I can now sit in a meeting with my stakeholders and articulate the role information plays in their workflows. They understand our contribution to their success." Information Senior Scientist, heavy manufacturing industry
---
With Jinfo Consulting, you get accountability, fine-tuned guidance and industry-wide perspective.