Michael Smith

A UK chartered information specialist (MCLIP) and chartered environmentalist (CEnv) working at NBS/RIBA Enterprises. He writes technical content for theNBS.com and for the IHS Construction Information Service product; planning and producing current awareness and technical articles. He also carries out technical research; contributes to marketing and business development activities at NBS/RIBAE, and works closely with colleagues to streamline product content and procedures.
His information skills, in relation to knowledge of the construction industry, are backed up by 15 years as a production, mechanical and services engineer. Michael"s specialist areas lie in green and environment friendly construction and production engineering. Find him on Google+
Articles by Michael Smith:
---

Product Lifecycle Management and Opportunities for Collaboration
Tuesday, 29th July 2014
Construction industry information specialist and chartered environmentalist, Michael Smith, introduces Product Lifecycle Management (PLM) and outlines the benefits it can bring from overcoming geographical limits to reducing development costs and yielding smarter design decisions.
---

Information Support in the Product Lifecycle
Friday, 25th July 2014
Product Lifecycle Management (PLM) is a strategy which integrates people, processes and business systems into the workflow. It allows disparate communications systems access to product knowledge and to integrate the results of related research; contributing the enabling technology for information to serve as a central hub for collaborative design and development. Author Michael Smith also considers organisational barriers to collaboration, and how these can affect the timeliness and relevance of design decisions and their effect on deliverables and cost models.
What's new at Jinfo?
Jinfo Overview - August 2021
View on YouTube
---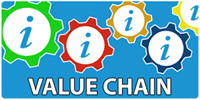 Five newly recorded webinars on how to complete the activities in our Focus on Value Chain now available.
---
Express value the way stakeholders do with Value Chain analysis
"I can now sit in a meeting with my stakeholders and articulate the role information plays in their workflows. They understand our contribution to their success." Information Senior Scientist, heavy manufacturing industry
---
With Jinfo Consulting, you get accountability, fine-tuned guidance and industry-wide perspective.