Geraldine Clement-Stoneham

Geraldine Clement-Stoneham is the knowledge and information manager at the Medical Research Council UK. Her team provides support and advice to MRC staff and researchers on a range of KIM issues. Her responsibilities range from advising on corporate information governance, information management-related risks, open access and data sharing policies, and acting as a subject expert on projects which aim to harness technology, standards and good practice to enable information and knowledge sharing.
Articles by Geraldine Clement-Stoneham:
---

My Favourite Tipples from a Medical Research Specialist
Wednesday, 30th July 2014
My Favourite Tipples are shared by Geraldine Clement-Stoneham, knowledge and information manager at the Medical Research Council UK. She shares her favourite online resources in areas from horizon scanning and political intelligence to French "bandes dessinées".
What's new at Jinfo?
Jinfo Overview - August 2021
View on YouTube
---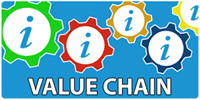 Five newly recorded webinars on how to complete the activities in our Focus on Value Chain now available.
---
Express value the way stakeholders do with Value Chain analysis
"I can now sit in a meeting with my stakeholders and articulate the role information plays in their workflows. They understand our contribution to their success." Information Senior Scientist, heavy manufacturing industry
---
With Jinfo Consulting, you get accountability, fine-tuned guidance and industry-wide perspective.