Neil Smith

Neil Smith is an investigative researcher & trainer, open source intelligence techniques.
After serving over 10 years as a police officer in a major UK police force, then as a counter-fraud specialist for a government department and a fraud investigator for insurance companies, Neil has now spent over 10 years as a full time investigative researcher for clients from insurance companies to law enforcement agencies.
For the last 10 years Neil has taught many hundreds of investigators, mostly from law enforcement, in the art of using the internet as an investigative tool. These courses have taken him all around the UK and into Europe. www.uk-osint.net
Articles by Neil Smith:
---

My Favourite Tipples from an Investigative Researcher
Wednesday, 19th November 2014
My Favourite Tipples are shared by Neil Smith, a specialist in open source intelligence techniques. He shares some of his favourite online resources in areas from domain names to sources for tracking and tracing people.
What's new at Jinfo?
Jinfo Overview - August 2021
View on YouTube
---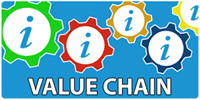 Five newly recorded webinars on how to complete the activities in our Focus on Value Chain now available.
---
Express value the way stakeholders do with Value Chain analysis
"I can now sit in a meeting with my stakeholders and articulate the role information plays in their workflows. They understand our contribution to their success." Information Senior Scientist, heavy manufacturing industry
---
With Jinfo Consulting, you get accountability, fine-tuned guidance and industry-wide perspective.