Katharine Schopflin

Katharine Schopflin is an information professional with more than 20 years" experience in the media, government and non-profit sectors, in research, intranet content development and knowledge and information management roles. She currently works as part of the information management team at a London local authority. She is the 2018 president of SLA Europe and a member of many other professional associations. Her book, with Matt Walsh, "Practical Knowledge and Information Management" will be published by Facet Publishing in November 2018 and is her third title.
Articles by Katharine Schopflin:
---

My Favourite Tipples from an information governance manager
Wednesday, 19th September 2018
My Favourite Tipples are shared by Katharine Schopflin, who is responsible for information governance at a London borough and president of SLA Europe. She shares some of her frequently-used resources to do with Freedom of Information, data protection, taxonomy and more.
---

Networking for best effect - whether or not it comes naturally
Thursday, 8th June 2017
Networking has evolved thanks to the possibilities now offered by technology. Self-proclaimed "joiner", Katharine Schopflin, explains the options for networking and how even those who aren't natural networkers can benefit from making connections, opening up opportunities and gaining support from others in the field.
---

Why You Might Need a Media Asset Management System
Wednesday, 26th November 2014
This article describes why it is as important to manage our corporate audiovisual material as our written documents. Katharine Schopflin outlines what you need from a system to manage your media assets and what to do if you become responsible for creating order out of asset management chaos.
---

Audiovisual Assets - an Information Manager's Guide
Tuesday, 25th November 2014
Audiovisual materials proliferate in corporate information systems. Some may be of real value to the organisation, who may not have the systems to support them. This article offers an introduction to media assets, how they can be managed and why it is important that you do so well.
What's new at Jinfo?
Jinfo Overview - August 2021
View on YouTube
---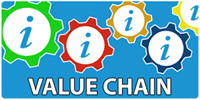 Five newly recorded webinars on how to complete the activities in our Focus on Value Chain now available.
---
Express value the way stakeholders do with Value Chain analysis
"I can now sit in a meeting with my stakeholders and articulate the role information plays in their workflows. They understand our contribution to their success." Information Senior Scientist, heavy manufacturing industry
---
With Jinfo Consulting, you get accountability, fine-tuned guidance and industry-wide perspective.