Nigel Williams

Nigel Williams is community manager at Interact Intranet. Nigel has consulted on the intranets and extranets of some of the world"s largest companies (as well as broader business efficiency programmes), helping companies maximise the potential of their intranets and evolve these into essential business applications. He leads Interact"s Customer Community and previously managed 4,500-user intranet and extranets, delivering multi-million pound revenue and savings.
Articles by Nigel Williams:
---

Moving On From a Mediocre Search Experience
Tuesday, 24th March 2015
Nigel Williams of Interact Intranet looks at ineffective intranet search, some of the reasons behind this, and how to make the intranet an integral part of employee collaboration and communication from the start.
---

Evolve Your Search Into Solve - Stop the Seven Deadly Sins
Tuesday, 3rd March 2015
Nigel Williams of Interact Intranet describes how to go from mediocre search experiences to fantastic "solve" experiences in his article which is part of the FreePint Topic Series "Making Information Visible". He discusses the challenges in making internal content discoverable and covers seven common errors that hinder effective intranet search, and ways to avoid and overcome them in order to evolve from simply searching for information to solving problems.
What's new at Jinfo?
Jinfo Overview - August 2021
View on YouTube
---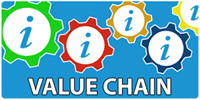 Five newly recorded webinars on how to complete the activities in our Focus on Value Chain now available.
---
Express value the way stakeholders do with Value Chain analysis
"I can now sit in a meeting with my stakeholders and articulate the role information plays in their workflows. They understand our contribution to their success." Information Senior Scientist, heavy manufacturing industry
---
With Jinfo Consulting, you get accountability, fine-tuned guidance and industry-wide perspective.