Britt Mueller

Britt Mueller is the strategic director of Qualcomm"s Library & Information Services group. Serving a global employee population of over 30,000, her team provides just-in-time, globally-accessible information, research and analysis for increased productivity and competitive advantage. Areas of focus include global content licensing, mobile delivery, API deployment, competitive intelligence, research analysis, and information analytics.
Articles by Britt Mueller:
---

For Maximum Visibility Keep Information Brief and Relevant
Tuesday, 17th March 2015
Britt Mueller provides some tips to help ensure that information deliverables are actively used and valued. She also highlights the importance of tracking usage metrics and user behaviour.
---

Moving from Passive Visibility to Active Viewing
Monday, 16th March 2015
Britt Mueller provides some actionable takeaways on the topic of information visibility and how to use communication and responsive change to move from passive visibility to active use, to help ensure that the information centre's valuable deliverables are well-used.
What's new at Jinfo?
Jinfo Overview - August 2021
View on YouTube
---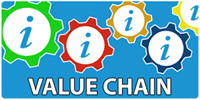 Five newly recorded webinars on how to complete the activities in our Focus on Value Chain now available.
---
Express value the way stakeholders do with Value Chain analysis
"I can now sit in a meeting with my stakeholders and articulate the role information plays in their workflows. They understand our contribution to their success." Information Senior Scientist, heavy manufacturing industry
---
With Jinfo Consulting, you get accountability, fine-tuned guidance and industry-wide perspective.