Bethan Ruddock

Bethan Ruddock is content development and project manager at Jisc.
Jisc offers digital services and solutions for UK education and research. Bethan works with data-heavy library and archive services, including Copac, Copac Collections Management Tools, the Archives Hub, and learning analytics.
She is currently serving on the SLA (Special Libraries Association) Board, and is a chartered member of CILIP and a chartership mentor. She is the author of The New Professional"s Toolkit (Facet, 2012), which aims to help new and developing library, archive, and information professionals gain the skills they need for the workplace. Bethan is on Twitter at @bethanar.
Articles by Bethan Ruddock:
---

My Favourite Tipples from a Digital Data Specialist
Wednesday, 22nd April 2015
My Favourite Tipples are shared by Bethan Ruddock, a librarian working with data-heavy library and archive services for Jisc. She shares her favourite online resources in areas from bibliographic and archive data to coding and time zones.
What's new at Jinfo?
Jinfo Overview - August 2021
View on YouTube
---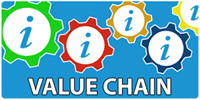 Five newly recorded webinars on how to complete the activities in our Focus on Value Chain now available.
---
Express value the way stakeholders do with Value Chain analysis
"I can now sit in a meeting with my stakeholders and articulate the role information plays in their workflows. They understand our contribution to their success." Information Senior Scientist, heavy manufacturing industry
---
With Jinfo Consulting, you get accountability, fine-tuned guidance and industry-wide perspective.