Sonja Irlbeck

Dr. Sonja A. Irlbeck entered the world of developing online learning as soon as it became a possibility in the mid 1980s. In addition to masters and doctorate degrees in instructional systems and training and development from the University of Minnesota, she has years of experience working with competency-based learning, task analysis, and workplace training.
As she winds down her day-to-day focus on instructional design and training and graduate education, she is enjoying investigating some of her favourite topics including competency-based learning.
Articles by Sonja Irlbeck:
---

Embedding Training in the Workplace
Monday, 15th June 2015
Sonja Irlbeck explores how to enhance team competencies through effective workplace training.
---

Using Competency-Based Strategies to Develop your Team of Information Professionals
Friday, 12th June 2015
Sonja Irlbeck introduces ideas of competency-based learning embedded in the workplace to help manage employee training and productivity. How can managers support employees' continuous development so they remain current with their skills and your company remains competitive? How do you encourage employees to gain new skills in the midst of busy work schedules? This article explores options available for workplace training with a focus on enhancing competencies through learning integrated into the workplace environment.
What's new at Jinfo?
Jinfo Overview - August 2021
View on YouTube
---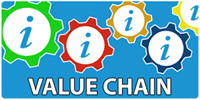 Five newly recorded webinars on how to complete the activities in our Focus on Value Chain now available.
---
Express value the way stakeholders do with Value Chain analysis
"I can now sit in a meeting with my stakeholders and articulate the role information plays in their workflows. They understand our contribution to their success." Information Senior Scientist, heavy manufacturing industry
---
With Jinfo Consulting, you get accountability, fine-tuned guidance and industry-wide perspective.