Bernadette John

Bernadette John is the lead consultant at DigitalProfessionalism.com and former lead for Digital Professionalism at King"s College London.
She has over 20 years" experience in various professional roles from midwife to year lead at a medical school. She is an accomplished blogger, social media super user and thought leader in the area of digital professionalism - the competence or values expected of a professional when engaged in social and digital communications.
Articles by Bernadette John:
---

The Risks of Digital Communication
Friday, 3rd July 2015
Bernadette John is an expert in digital professionalism. She explains why information professionals should be taking the lead in ensuring staff possess appropriate skills to be professional in the digital environment - and what can go wrong if they don't.
---

Digital Professionalism Skills for the Workforce
Thursday, 2nd July 2015
Bernadette John explains what digital professionalism means and how it goes far beyond an understanding of social media. She goes into detail about why gaining these skills is essential, not just for employees but also for their families and friends, and where knowledge of information governance and confidentiality issues, correct use of images and understanding the risks of shadow IT become particularly important.
What's new at Jinfo?
Jinfo Overview - August 2021
View on YouTube
---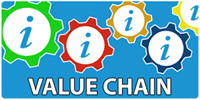 Five newly recorded webinars on how to complete the activities in our Focus on Value Chain now available.
---
Express value the way stakeholders do with Value Chain analysis
"I can now sit in a meeting with my stakeholders and articulate the role information plays in their workflows. They understand our contribution to their success." Information Senior Scientist, heavy manufacturing industry
---
With Jinfo Consulting, you get accountability, fine-tuned guidance and industry-wide perspective.