Martin Murtland

Martin Murtland is a senior executive with over 20 years in product and management roles in the digital content sector. Currently, he works as a consultant advising companies on monetising their content and data. He also serves as a board advisor to iCrowdNewswire, a cloud-based communications service. Recently, he was at PR Newswire, where he successfully re-launched their cloud-based platform.
Previously, Martin worked for Dow Jones in various global roles including building a high growth business and award winning products. Martin has been quoted in publications including the Financial Times and is a contributor to "Supporting Strategy: Frameworks, Methods & Models". Martin earned his MBA with distinction from Warwick University (UK). LinkedIn: https://www.linkedin.com/in/martinmurtland
Articles by Martin Murtland:
---

Disaggregation between software and content
Friday, 21st September 2018
"Content is king" used to be the adage but with the easy availability of free content, this is no longer the case. This article looks at the changing consumption patterns of content and particularly the pros and cons of consuming content via software only vendors, such as Comintelli and InfoDesk, as opposed to vendors that provide both software and content, such as Factiva, NewsEdge and Nexis. It also considers user needs and pricing as factors in the decision-making process.
---

How to get your project on the product development roadmap
Tuesday, 3rd July 2018
Many information professionals struggle to get their project implemented and in this article Martin Murtland explains the product development process and how you can effectively sell your project. He gives an overview of the software development methodologies and some of the drawbacks as well as some practical steps you can take to ensure success.
---

Using signal media and artificial intelligence in news
Friday, 8th September 2017
The analysis of news to identify signals and triggers is not new, but it is increasingly important and is finding application beyond the world of finance as the techniques are used to help identify misleading news items. In this article, Martin Murtland explores the technology and techniques used in news signal identification as well as highlighting providers such as Lexalytics, Clarabridge, InferLink, Sysomos and Open Calais.
---

An overview of the fast-developing data analytics landscape (part 2)
Wednesday, 14th December 2016
When assessing providers of data analytics platforms, the main considerations are what is important to your company and the business problems you are trying to solve. As part of Jinfo's current Research Focus, "Data analytics - ready your information service", Martin Murtland continues with part 2 of his article by highlighting what to look for in a potential provider. He also shares lessons learnt, highlights key trends to watch and gives an overview of some of the key platform providers such as Microsoft, Tableau, Qlik, Alteryx, Birst, SAP and SAS.
---

An overview of the fast-developing data analytics landscape (part 1)
Tuesday, 13th December 2016
Data analytics platforms may be becoming crucial for competitive advantage as companies strive to make better business decisions faster. Martin Murtland offers advice on selecting a data analytics platform. He looks at changes in buyer behaviour driving what vendors provide and takes a practical look at the benefits and challenges of such platforms.
What's new at Jinfo?
Jinfo Overview - August 2021
View on YouTube
---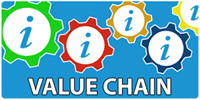 Five newly recorded webinars on how to complete the activities in our Focus on Value Chain now available.
---
Express value the way stakeholders do with Value Chain analysis
"I can now sit in a meeting with my stakeholders and articulate the role information plays in their workflows. They understand our contribution to their success." Information Senior Scientist, heavy manufacturing industry
---
With Jinfo Consulting, you get accountability, fine-tuned guidance and industry-wide perspective.