Samuel Wiggins

Sam Wiggins is a senior research librarian for a City law firm based in London, fully embedded in the firm"s litigation and dispute resolution teams. He is a chartered librarian and mentor, the current president of the SLA Europe and is a 2nd degree black belt in taekwondo.
Sam enjoys both speaking and writing about librarianship. In the past few years he has guest lectured twice for Sheffield University"s INF6200 module on academic and research libraries, and presented at SLA"s annual conference in San Diego, Vancouver, and Boston. Sam has also spoken at the SLA Leadership Summit in Memphis, and at the BIALL conference in Glasgow. Publications include two articles for Legal Information Management. He is on Twitter: @LibWig
Articles by Samuel Wiggins:
---

My Favourite Tipples from a Senior Research Librarian
Wednesday, 5th August 2015
My Favourite Tipples are shared by Sam Wiggins, a senior research librarian for a commercial law firm, embedded in their litigation and dispute resolution teams. He shares his favourite online resources ranging from Twitter chats to checking up on government business.
What's new at Jinfo?
Jinfo Overview - August 2021
View on YouTube
---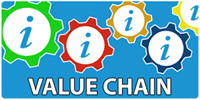 Five newly recorded webinars on how to complete the activities in our Focus on Value Chain now available.
---
Express value the way stakeholders do with Value Chain analysis
"I can now sit in a meeting with my stakeholders and articulate the role information plays in their workflows. They understand our contribution to their success." Information Senior Scientist, heavy manufacturing industry
---
With Jinfo Consulting, you get accountability, fine-tuned guidance and industry-wide perspective.