Catherine Kearney

My current post is with CILIP as director of CILIP in Scotland delivering the CILIP membership offer across the country and supporting our branches and Special Interest Groups. As a qualified librarian I began my career in school libraries before undertaking some education qualifications and moving on to work in further education colleges in Glasgow. Prior to my current post I spent nine years as assistant director of the Scottish Library and Information Council, the advisory body to Scottish Government on library services.
Articles by Catherine Kearney:
---

My Favourite Tipples from the Director of CILIP in Scotland
Wednesday, 19th August 2015
Social media and the latest technology solution for current awareness are top-of-mind for many of us. My Favourite Tipples are shared by Catherine Kearney, director of membership body CILIP in Scotland. She has selected resources which help her work smarter and keep her informed.
What's new at Jinfo?
Jinfo Overview - August 2021
View on YouTube
---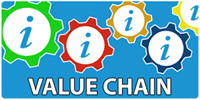 Five newly recorded webinars on how to complete the activities in our Focus on Value Chain now available.
---
Express value the way stakeholders do with Value Chain analysis
"I can now sit in a meeting with my stakeholders and articulate the role information plays in their workflows. They understand our contribution to their success." Information Senior Scientist, heavy manufacturing industry
---
With Jinfo Consulting, you get accountability, fine-tuned guidance and industry-wide perspective.