Roger Strouse

Roger Strouse is senior manager, global information services at Bain & Company. In this role, Roger manages digital initiatives (technology platforms and innovations) and learning (both end-user training and continuous learning for information specialists).
Previously, he has worked for a wide range of organisations, including Outsell, A.T. Kearney, LexisNexis, MMI Companies, and the Chicago Public Library. The one thing all his jobs have had in common is that training was a key component. Roger"s MSLIS degree is from the University of Illinois. Current favourite quote: "Most people do not listen with the intent to understand; they listen with the intent to reply." (Stephen Covey.)
Articles by Roger Strouse:
---

Rethinking Information Training at Bain & Company
Wednesday, 30th September 2015
Management consultancy firm Bain & Company is ahead of the curve when it comes to thinking about, planning and executing training and development in information skills. We asked Roger Strouse, senior manager in global information services for Bain, to shed light on Information Services' recent high-level changes to training priorities, modules and techniques.
What's new at Jinfo?
Jinfo Overview - August 2021
View on YouTube
---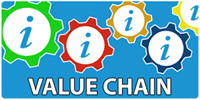 Five newly recorded webinars on how to complete the activities in our Focus on Value Chain now available.
---
Express value the way stakeholders do with Value Chain analysis
"I can now sit in a meeting with my stakeholders and articulate the role information plays in their workflows. They understand our contribution to their success." Information Senior Scientist, heavy manufacturing industry
---
With Jinfo Consulting, you get accountability, fine-tuned guidance and industry-wide perspective.