Penny Robertson

Penny Robertson is a chartered librarian and has worked within the digital environment for over 15 years, specialising in creating access to digital resources, the management and governance of information and the creation and use of metadata to exploit and develop information services for all in Scotland.
She has worked mainly for national agencies in Scotland, specifically Jisc Regional Support Centre Scotland, SQA, SLIC and CILIP Scotland. Her current role is an account manager for Jisc Scotland with a specialism in digital resources. Her main area of work is ensuring our customers get the right resources, expertise and support available from Jisc.
Articles by Penny Robertson:
---

My Favourite Tipples from a Jisc Digital Specialist
Thursday, 8th October 2015
My Favourite Tipples are shared by Penny Robertson, account manager for Jisc Scotland. She shares her favourite online resources in areas from homeworking to digital information curation and reliable sources of guidance & information.
What's new at Jinfo?
Jinfo Overview - August 2021
View on YouTube
---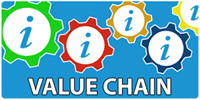 Five newly recorded webinars on how to complete the activities in our Focus on Value Chain now available.
---
Express value the way stakeholders do with Value Chain analysis
"I can now sit in a meeting with my stakeholders and articulate the role information plays in their workflows. They understand our contribution to their success." Information Senior Scientist, heavy manufacturing industry
---
With Jinfo Consulting, you get accountability, fine-tuned guidance and industry-wide perspective.