Mandy Smith

Mandy Smith is a Chartered librarian and information professional with 25 years experience in the oil industry in UK and USA. She did her Bachelors degree at University of Aberdeen UK and then a Masters in Information Management at Robert Gordon University, Aberdeen UK. She worked in various corporate oil company libraries before joining a major subsea contractor in 1991 and took on a global role in 2005 after developing a global records management process with database and retention policy for the archives. She also developed the company library catalogue and virtual library portal of eResources. She manages the Library & Information Service team and virtual library.
Articles by Mandy Smith:
---

Considerations and Lessons Learnt from Developing a Virtual Information Centre
Monday, 23rd November 2015
Following the article on "Developing a Global Virtual Information Centre in the Subsea Sector", we asked Mandy Smith, the group library manager for the organisation, to identify the key factors for developing such a service and how to ensure it's well-used.
---

Developing a Global Virtual Information Centre in the Subsea Sector
Thursday, 19th November 2015
Developing and maintaining a corporate virtual information centre provides valuable lessons and reflections for information professionals, including the value of using in-house tools and systems, the variety of authentication methods, value of usage statistics, content supplier issues and future proofing of your role. Mandy Smith, group library manager for a major subsea contractor, explains how they accomplished the transition.
What's new at Jinfo?
Jinfo Overview - August 2021
View on YouTube
---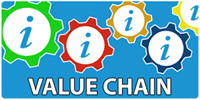 Five newly recorded webinars on how to complete the activities in our Focus on Value Chain now available.
---
Express value the way stakeholders do with Value Chain analysis
"I can now sit in a meeting with my stakeholders and articulate the role information plays in their workflows. They understand our contribution to their success." Information Senior Scientist, heavy manufacturing industry
---
With Jinfo Consulting, you get accountability, fine-tuned guidance and industry-wide perspective.