Ada Kaspersma

Ada Kaspersma has worked in the information research sector from the beginning of her career. She worked as a researcher for management consultancy firms such as HayGroup, Boston Consulting Group, KPMG and as a business consultant at law firm Baker & McKenzie.
Ada started her company Adalyse in 2012 in the Netherlands. She works for both local and international clients. Ada specialises in business information that is used for strategic and commercial purposes. Contact Ada at info@adalyse.nl.
Articles by Ada Kaspersma:
---

Information Sources for Industry Developments
Wednesday, 2nd December 2015
Useful research either costs money or time. This overview of information sources can help you to choose between doing the research yourself and buying an industry report that gives you the necessary economic and statistical information.
The more specific the information is you are looking for, the more creative you might have to become to find it. Ada Kaspersma provides an overview of information sources you can find from behind your desk, only using your computer and maybe your phone or credit card.
What's new at Jinfo?
Jinfo Overview - August 2021
View on YouTube
---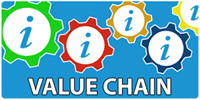 Five newly recorded webinars on how to complete the activities in our Focus on Value Chain now available.
---
Express value the way stakeholders do with Value Chain analysis
"I can now sit in a meeting with my stakeholders and articulate the role information plays in their workflows. They understand our contribution to their success." Information Senior Scientist, heavy manufacturing industry
---
With Jinfo Consulting, you get accountability, fine-tuned guidance and industry-wide perspective.