Michelle Anderson

Michelle Anderson is an information services manager at Integreon, a global outsourcing company. Michelle manages the enquiries service for the shared library service for law firms. She is also an experienced client account manager and PRINCE 2 practitioner. She has a degree in Information Studies and French from Loughborough University and studied in France for a year. Prior to joining Integreon she worked in law firms since the late 1990s in Bristol and London and has broad experience of business and legal information research, resources and training. She can be contacted on michelle.anderson@integreon.com.
Articles by Michelle Anderson:
---

My Favourite Tipples from a Research Services Manager
Thursday, 3rd December 2015
My Favourite Tipples are shared by Michelle Anderson, an information services manager for Integreon Managed Solutions. She shares her favourite online resources ranging from legal to business and personal interest in infographics.
What's new at Jinfo?
Jinfo Overview - August 2021
View on YouTube
---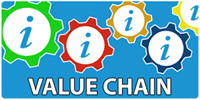 Five newly recorded webinars on how to complete the activities in our Focus on Value Chain now available.
---
Express value the way stakeholders do with Value Chain analysis
"I can now sit in a meeting with my stakeholders and articulate the role information plays in their workflows. They understand our contribution to their success." Information Senior Scientist, heavy manufacturing industry
---
With Jinfo Consulting, you get accountability, fine-tuned guidance and industry-wide perspective.