Anke Russell

Anke Russell is a multilingual (native German) senior research project manager and strategic market intelligence/competitive intelligence professional. She has extensive research and project management experience in international strategy consultancies, professional legal services environments, and with a city insurer/reinsurer.
Versed in qualitative research methodologies with syndication experience of quantitative requirements and management of third party providers, she has run strategic market/CI corporate research departments and scoped, project managed and sold bespoke research projects. She is passionate about complex research projects that provide strategic insight, as well as running focus groups and moderating strategic workshops for feedback loops. She holds a BA and an MA.
Articles by Anke Russell:
---

My Favourite Tipples from a Competitive Intelligence Manager
Wednesday, 20th January 2016
My Favourite Tipples are shared by Anke Russell, a senior research project manager whose experience runs from quantitative research to management of complex strategic projects. She shares her favourite online sources, useful whether spotting technology frontrunners or researching cross-border companies.
What's new at Jinfo?
Jinfo Overview - August 2021
View on YouTube
---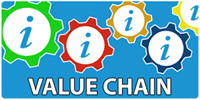 Five newly recorded webinars on how to complete the activities in our Focus on Value Chain now available.
---
Express value the way stakeholders do with Value Chain analysis
"I can now sit in a meeting with my stakeholders and articulate the role information plays in their workflows. They understand our contribution to their success." Information Senior Scientist, heavy manufacturing industry
---
With Jinfo Consulting, you get accountability, fine-tuned guidance and industry-wide perspective.