Tina Reynolds

Tina Reynolds is a chartered librarian, with experience in a variety of roles within professional services firms. She currently works for a magic circle law firm. Her interests include vendor management, contract negotiation, value and impact of special libraries, and organisation and workload management.
She has previously written for a number of publications including an article in Performance Measurement and Metrics and is a contributor to the Handbook for Corporate Information Professionals published by Facet. She can be contacted on Twitter at @tinamreynolds or by email at tina.reynolds@cliffordchance.com. She also blogs on an infrequent basis at tinareynolds.co.uk.
Articles by Tina Reynolds:
---

Are premium news aggregators worth the investment?
Tuesday, 22nd August 2017
Whilst premium news databases can be very costly, the breadth of content, ability to narrow your search, and reduction of risk, means that they are worth purchasing. In this article, Tina Reynolds discusses the value of resources such as Nexis and Factiva, and the problems they can prevent, as well as offering some tips on how to promote premium news sources within the organisation.
---

How Do You Ensure the Best Possible Relationship With Your IT Department?
Thursday, 28th January 2016
Building good working relationships between the information centre and IT department can be challenging. Tina Reynolds shares her tips for gaining mutual understanding, making expectations clear on both sides, and evolving a better appreciation of departmental and organisation-wide pressures and deadlines.
What's new at Jinfo?
Jinfo Overview - August 2021
View on YouTube
---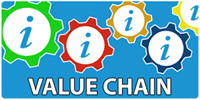 Five newly recorded webinars on how to complete the activities in our Focus on Value Chain now available.
---
Express value the way stakeholders do with Value Chain analysis
"I can now sit in a meeting with my stakeholders and articulate the role information plays in their workflows. They understand our contribution to their success." Information Senior Scientist, heavy manufacturing industry
---
With Jinfo Consulting, you get accountability, fine-tuned guidance and industry-wide perspective.