Graham Southorn

Graham is a freelance writer and editor specialising in business, science and technology. He is a former editor of magazines including South West Business Insider, BBC Focus, and BBC Sky at Night, which he launched in 2005.
Since qualifying with a postgraduate diploma in journalism from Cardiff University, he has written for numerous titles including The Guardian, HERE 360, and the Royal Statistical Society"s Significance magazine. His article for Significance was included in The Best Writing on Mathematics 2017, published by Princeton University Press. He co-authored a book, Physics Squared, which was published in 2016.
Graham enjoys chairing live events, including round table discussions and debates with entrepreneurs and business leaders. He has also chaired judging panels for business awards including Insider"s International Trade Awards, the South West Property Awards and Made in the South West.
Articles by Graham Southorn:
---

Digimind Intelligence - for strategic decision-making
Thursday, 18th October 2018
Find out why we reviewed the web- and news-monitoring tool Digimind Intelligence and how it helps you stay one step ahead of your competitors.
---

How to benchmark your information team in 2018
Thursday, 2nd August 2018
Comparing our information services to others and looking for ways to improve them is vital for any information team. A recent webinar focused on Jinfo's benchmarking research in this area and this article reports on its findings, looking specifically at the data provided by information teams in relation to reporting lines, services and customers, and measuring value, and how they use it to demonstrate value to their organisations.
---

Creating the conditions for information centre success
Tuesday, 26th June 2018
Constant change is a fact of life in the information profession today and the pace of change is not slowing down. In a recent webinar, Jinfo's director of research, Robin Neidorf, discussed how team leaders can not only survive, but thrive, at a time when strategy, services and operations are all evolving. She described a structure used by many successful information teams to think about everyday tasks, and three factors that are critical to success in a fast-changing environment.
---

Developing new skills and evolving relationships
Monday, 28th May 2018
Information teams of the future will have different responsibilities and will need a whole new set of skills as a result. In a recent Jinfo webinar, guest presenter Kim Dority outlined the range of necessary new skills and compared them to an information professional's existing skill set. She presented ideas on how to develop these skills within teams and how this would make them more valued in their organisations as a result.
---

Where do information professionals still beat AI?
Friday, 4th May 2018
With artificial intelligence (AI) becoming ever more sophisticated, its role in research is certain to grow considerably in the coming years. Yet AI is nowhere near matching human intelligence in some areas, and that's likely to remain the case for the foreseeable future. A recent Jinfo webinar looked at ways in which information professionals can forge the most effective partnerships with machines in order to make their teams fit for the future.
What's new at Jinfo?
Jinfo Overview - August 2021
View on YouTube
---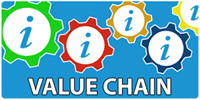 Five newly recorded webinars on how to complete the activities in our Focus on Value Chain now available.
---
Express value the way stakeholders do with Value Chain analysis
"I can now sit in a meeting with my stakeholders and articulate the role information plays in their workflows. They understand our contribution to their success." Information Senior Scientist, heavy manufacturing industry
---
With Jinfo Consulting, you get accountability, fine-tuned guidance and industry-wide perspective.