Helene Jewell

Helene Jewell is a workshop and group facilitator and the founder of Jewell Facilitation. She has worked with a variety of clients from a broad spectrum of backgrounds including IT sector, professionals, engineers, project managers, archaeologists, the Police Force, volunteer community workers and young people. She has worked both overseas and in the UK and has a particular interest in the processes required for effective communication.
Prior to her work as a professional Facilitator she worked for many years as a Speech and Language Therapist as well as roles in International Development and the charity and Non Profit Sector. helene@jewellfacilitation.com
Articles by Helene Jewell:
---

The Role of the Facilitator in Effective Meetings
Wednesday, 9th March 2016
The differences in communication style, staffing structures and role often make meetings between personnel from Information Services and the IT Department complex at best and unproductive at worst. Can bringing in an external Facilitator to such meetings add value and provide structures and processes that will pave the way for more productive and harmonious meetings?
---

My Favourite Tipples from a Group Facilitator
Wednesday, 9th March 2016
My Favourite Tipples are shared by Helene Jewell, a workshop and group facilitator who specialises in effective communication. She shares her favourite online resources in areas from project planning to leadership and management training.
What's new at Jinfo?
Jinfo Overview - August 2021
View on YouTube
---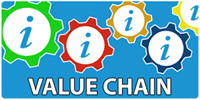 Five newly recorded webinars on how to complete the activities in our Focus on Value Chain now available.
---
Express value the way stakeholders do with Value Chain analysis
"I can now sit in a meeting with my stakeholders and articulate the role information plays in their workflows. They understand our contribution to their success." Information Senior Scientist, heavy manufacturing industry
---
With Jinfo Consulting, you get accountability, fine-tuned guidance and industry-wide perspective.