Carol Schwalbaum

Carole Schwalbaum is the manager of the Americas Information and Research Centre at management consulting firm A.T. Kearney, where she leads the team of researchers who are based in North America.
In addition to her management responsibilities, Carole supports the ATI Practice - automotive, aerospace and defence, transportation, travel, industrial products, and infrastructure. She has an industry specialisation in the automotive industry.
Prior to joining A.T. Kearney, Carole worked at an independent research services firm in New York City, where she first fell in love with the automotive industry. She began her research career investigating US technology business to license for a Japanese trading company.
Articles by Carol Schwalbaum:
---

Being an Industry Specialist in a Global Management Consultancy
Tuesday, 17th May 2016
Leading global management consulting firm, A.T. Kearney, has offices in more than 40 countries and deals with clients in areas from beauty products to wind turbines. Carole Schwalbaum, manager of the Americas Information and Research Centre, explains what both generalist and specialist information researchers bring to the company.
What's new at Jinfo?
Jinfo Overview - August 2021
View on YouTube
---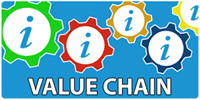 Five newly recorded webinars on how to complete the activities in our Focus on Value Chain now available.
---
Express value the way stakeholders do with Value Chain analysis
"I can now sit in a meeting with my stakeholders and articulate the role information plays in their workflows. They understand our contribution to their success." Information Senior Scientist, heavy manufacturing industry
---
With Jinfo Consulting, you get accountability, fine-tuned guidance and industry-wide perspective.