Andrew Woolfson

Andrew Woolfson has over 25 years" experience working in senior information, IT and knowledge management roles. Andrew is currently the director of Knowledge Management & Capability at RPC, the legal services business. Previously Andrew has been global director for IT & Knowledge at BDO International and BDO UK"s knowledge director. Prior to RPC and BDO Andrew worked in a variety of information and knowledge roles for KPMG, Reuters, Shell and Oxford Analytica. Andrew"s career to date has tracked and to an extent led the rise of KM as a key aspect to the way organisations mobilise their experience, capabilities and knowledge especially within the field of Professional Services. He is also currently visiting professor of Professional Services, Research and Enterprise at the University of Huddersfield.
Articles by Andrew Woolfson:
---

Is current awareness out of date?
Thursday, 8th September 2016
This article examines whether current awareness involving more general and business news delivers value. It features an interview with Andrew Woolfson, director of knowledge and capability, at RPC, a UK top 50 law firm. Woolfson is sceptical about the value of current awareness believing that information professionals should focus instead on providing deeper insights and analysis. Some next steps around assessing the value of your current awareness set-up are suggested.
What's new at Jinfo?
Jinfo Overview - August 2021
View on YouTube
---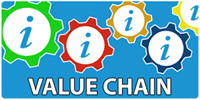 Five newly recorded webinars on how to complete the activities in our Focus on Value Chain now available.
---
Express value the way stakeholders do with Value Chain analysis
"I can now sit in a meeting with my stakeholders and articulate the role information plays in their workflows. They understand our contribution to their success." Information Senior Scientist, heavy manufacturing industry
---
With Jinfo Consulting, you get accountability, fine-tuned guidance and industry-wide perspective.