Joel Hughes

Joel Hughes runs Glass Mountains, a website and digital strategy company. Joel has a degree in computing and over 20 years IT experience. He has in-depth experience in all aspects of IT and web projects with particularly specialisms in analytics, integration, and conversion rate optimisation. He is on LinkedIn and Twitter @Joel_Hughes
Articles by Joel Hughes:
---

My Favourite Tipples from a website development and analytics expert
Thursday, 22nd September 2016
My Favourite Tipples are shared by Joel Hughes who runs GlassMountains.co.uk, a web design and digital strategy company established in 2001 and based in South Wales. He selects favourite online resources in areas from communication to calendaring.
What's new at Jinfo?
Jinfo Overview - August 2021
View on YouTube
---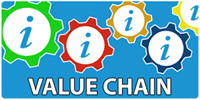 Five newly recorded webinars on how to complete the activities in our Focus on Value Chain now available.
---
Express value the way stakeholders do with Value Chain analysis
"I can now sit in a meeting with my stakeholders and articulate the role information plays in their workflows. They understand our contribution to their success." Information Senior Scientist, heavy manufacturing industry
---
With Jinfo Consulting, you get accountability, fine-tuned guidance and industry-wide perspective.