Yali Friedman

Yali Friedman, PhD is publisher of DrugPatentWatch.com.
Yali is also publisher of the Journal of Commercial Biotechnology and author of Building Biotechnology, which is used as a course text in dozens of biotechnology programs. He was also named one of the 100 most influential people in biotechnology by Scientific American.
Yali has strong exposure to leading issues in international biotechnology. He is editor of the Scientific American worldVIEW scorecard, a global biotechnology perspective profiling biotechnology industries and innovation capacity in dozens of countries, and has been invited to participate in biotechnology industry development forums for international groups such as APEC, in Europe, and throughout Asia.
He can be reached at yali@DrugPatentWatch.com and on LinkedIn
Articles by Yali Friedman:
---

My Favourite Tipples from a business intelligence publisher
Wednesday, 7th June 2017
My Favourite Tipples are shared by Yali Friedman, publisher of DrugPatentWatch.com, a global intelligence database. He shares his favourite online tools for better international communication.
What's new at Jinfo?
Jinfo Overview - August 2021
View on YouTube
---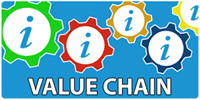 Five newly recorded webinars on how to complete the activities in our Focus on Value Chain now available.
---
Express value the way stakeholders do with Value Chain analysis
"I can now sit in a meeting with my stakeholders and articulate the role information plays in their workflows. They understand our contribution to their success." Information Senior Scientist, heavy manufacturing industry
---
With Jinfo Consulting, you get accountability, fine-tuned guidance and industry-wide perspective.