JP Ratajczak

JP Ratajczak is the director of Intelligence Systems at Aurora WDC, a leading intelligence and analytics advisory firm where he leads all aspects of service for FirstLight, Aurora"s proprietary intelligence software. Prior to joining Aurora, he most recently spent 7 years in Deloitte"s HUMINT program and leading research for the Deloitte CEO"s Communications team. JP has held various national and regional leadership roles for SCIP for 15 years and was a co-author of Conference and Tradeshow Intelligence. He earned a BA in Research/Intelligence Analysis and an MS in Organizational Leadership from Mercyhurst University. He can be reached at mr.jpratajczak@gmail.com.
Articles by JP Ratajczak:
---

My Favourite Tipples from an intelligence technologist
Wednesday, 6th December 2017
My Favourite Tipples are shared by JP Ratajczak, the director of Intelligence Systems at Aurora WDC, the company behind FirstLight. He shares his top online resources in areas from news on global markets to keeping on top of trends.
What's new at Jinfo?
Jinfo Overview - August 2021
View on YouTube
---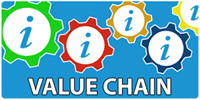 Five newly recorded webinars on how to complete the activities in our Focus on Value Chain now available.
---
Express value the way stakeholders do with Value Chain analysis
"I can now sit in a meeting with my stakeholders and articulate the role information plays in their workflows. They understand our contribution to their success." Information Senior Scientist, heavy manufacturing industry
---
With Jinfo Consulting, you get accountability, fine-tuned guidance and industry-wide perspective.