Charles Inskip

Dr Charles Inskip is a senior lecturer in the UCL Department of Information Studies and the programme director of the MA Library and Information Studies. His teaching focuses on information literacy and collections management and his research currently explores workplace information literacy.
Articles by Charles Inskip:
---

How do insurance workers experience effective information use?
Wednesday, 28th February 2018
Although there is plenty of research available on the information literacy skills of students and researchers, little is known about how those in the workplace find and effectively use information. This article provides a background to this topic and highlights some key findings from recent research carried out in relation to the insurance worker.
What's new at Jinfo?
Jinfo Overview - August 2021
View on YouTube
---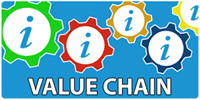 Five newly recorded webinars on how to complete the activities in our Focus on Value Chain now available.
---
Express value the way stakeholders do with Value Chain analysis
"I can now sit in a meeting with my stakeholders and articulate the role information plays in their workflows. They understand our contribution to their success." Information Senior Scientist, heavy manufacturing industry
---
With Jinfo Consulting, you get accountability, fine-tuned guidance and industry-wide perspective.