Jon Bentley

Jon has worked in publishing for 20 years with a variety of commercial and business publishers. His career has spanned the transformation from print to digital as companies have reacted and adapted to new technology. But his belief remains that the fundamental purpose of a publisher hasn"t changed. Accessibility to accurate, intelligent, insightful information has never been more important. Trust is paramount and Jon is delighted that OpenAthens participates in establishing that trust between publishers, libraries and end users.
Articles by Jon Bentley:
---

Opportunities and challenges in the fast-changing world of identity and access management
Tuesday, 18th December 2018
Effective identity and access management play a vital role in helping information professionals provide their users with quick and easy access to relevant content while also protecting that same valuable content from misuse. It is about getting the right resources to the right people as efficiently as possible and this article looks at the results of a recent survey OpenAthens commissioned of more than 900 information professionals across a variety of sectors and countries which sought to elicit their concerns for identity and access management.
---

My Favourite Tipples from an identity & access management expert
Wednesday, 14th March 2018
My Favourite Tipples are shared by Jon Bentley, commercial director at OpenAthens. He highlights some of his top online resources for keeping on top of new ideas in areas from digital marketing to scholarly publishing and authentication.
What's new at Jinfo?
Jinfo Overview - August 2021
View on YouTube
---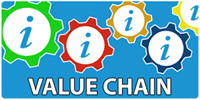 Five newly recorded webinars on how to complete the activities in our Focus on Value Chain now available.
---
Express value the way stakeholders do with Value Chain analysis
"I can now sit in a meeting with my stakeholders and articulate the role information plays in their workflows. They understand our contribution to their success." Information Senior Scientist, heavy manufacturing industry
---
With Jinfo Consulting, you get accountability, fine-tuned guidance and industry-wide perspective.