Kristie Robertson

Kristie Robertson is the director of intelligence services at Manzama Intelligence. She has more than 13 years of legal firm and law library experience and has spent most of her career focused on the management, creation and distribution of high-quality intelligence and information. Applying her Juris Doctor and a Master"s in Library and Information Science, she is uniquely positioned to understand the benefit and value of current awareness and competitive intelligence information to the law firm.
Articles by Kristie Robertson:
---

My Favourite Tipples from a competitive intelligence director
Wednesday, 28th March 2018
My Favourite Tipples are shared by Kristie Robertson, director of intelligence services at Manzama Intelligence. She picks some of her go-to resources for finding, seeing, knowing and analysing information.
What's new at Jinfo?
Jinfo Overview - August 2021
View on YouTube
---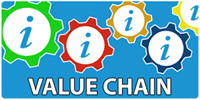 Five newly recorded webinars on how to complete the activities in our Focus on Value Chain now available.
---
Express value the way stakeholders do with Value Chain analysis
"I can now sit in a meeting with my stakeholders and articulate the role information plays in their workflows. They understand our contribution to their success." Information Senior Scientist, heavy manufacturing industry
---
With Jinfo Consulting, you get accountability, fine-tuned guidance and industry-wide perspective.