Elise Barbeau

Elise Barbeau is the citation specialist at Chegg, a student-first platform designed to help students save time, save money, and get smarter. An avid reader, writer, and content editor, she completed numerous courses in Library and Information Science and Public History while attaining her master"s degree, and has taught introductory writing to university students. She is well-versed in MLA, APA, Harvard, and citation styles in general, and is focused on helping students from around the globe become better writers. She lives and works in New York.
Elise can be found on LinkedIn.
Articles by Elise Barbeau:
---

My Favourite Tipples from a citation specialist
Wednesday, 25th April 2018
My Favourite Tipples are shared by Elise Barbeau, the citation specialist at Chegg, an American technology company based in Santa Clara, California. Elise shares her favourite online tools that can help students make more accurate citations and improve their writing abilities.
What's new at Jinfo?
Jinfo Overview - August 2021
View on YouTube
---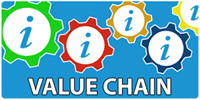 Five newly recorded webinars on how to complete the activities in our Focus on Value Chain now available.
---
Express value the way stakeholders do with Value Chain analysis
"I can now sit in a meeting with my stakeholders and articulate the role information plays in their workflows. They understand our contribution to their success." Information Senior Scientist, heavy manufacturing industry
---
With Jinfo Consulting, you get accountability, fine-tuned guidance and industry-wide perspective.