Louise Brookes
Account Analyst
Louise is an experienced information professional having worked at major global manufacturing companies Dow Corning and Dow Chemical over the last 27 years where she was a business intelligence manager and knowledge management specialist. She has a passion for bringing insight to technical and commercial professionals by combining her skills in competitive intelligence gathering, market research and technical information searching, including patent searching, with solid analysis, drawing on her previous background in R&D and marketing.
Louise can be reached at louise.brookes@jinfo.com
Articles by Louise Brookes:
---

Setting and implementing strategy for an information centre
Tuesday, 18th December 2018
During a recent Community session for those responsible for setting information strategy, facilitated by Jinfo's director of research Robin Neidorf, delegates shared their concerns and problems. Best practice and tips were offered with a particular emphasis on the use of technology and its place in information strategy. The group was able to explore the connections between their information strategies and the issues they faced and the part technology can play.
---

How technology is transforming manufacturing - key challenges and transformational changes
Monday, 10th December 2018
This article discusses how technology is impacting information professionals who work in the manufacturing industry. It discusses the strengths and weaknesses of information centres, how they are positioned to meet the challenges of a typical manufacturing organisation in light of the changes in technology. It also suggests some follow-up actions you can take to transform your information centre and seize these opportunities.
---

Resolving common problems in current awareness workflows
Friday, 7th December 2018
This article reports on a recent Jinfo webinar which showed that the process of examining and adjusting workflows need not be complicated or overwhelming and that by applying a framework or appropriate model, the task can be split into manageable parts. This approach makes it easier to identify inefficiencies in the process and areas for improvement. It also provided a model for information professionals to work with and shared learnings from recent projects that Jinfo Consulting analysts have been involved in.
---

Benchmarking through the manufacturing lens
Thursday, 18th October 2018
It is important for information teams to identify, capture and analyse information which will help them improve their processes, ensure that they are using the right resources to achieve their goals, and demonstrate value to their stakeholders. Senior information managers and professionals working in the manufacturing sector took part in a Community session to compare and contrast Jinfo's benchmarking research findings specifically between the manufacturing sector and other industries. This article provides a view of those findings and offers some ideas on their practical application.
---

My Favourite Tipples from a business and patent information specialist
Wednesday, 5th September 2018
My Favourite Tipples are shared by Louise Brookes, an experienced competitive intelligence and knowledge manager with over 25 years in global manufacturing companies. She shares some of her go-to sources in the areas of patents, market research and withdrawn website content.
What's new at Jinfo?
Jinfo Overview - August 2021
View on YouTube
---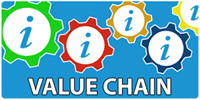 Five newly recorded webinars on how to complete the activities in our Focus on Value Chain now available.
---
Express value the way stakeholders do with Value Chain analysis
"I can now sit in a meeting with my stakeholders and articulate the role information plays in their workflows. They understand our contribution to their success." Information Senior Scientist, heavy manufacturing industry
---
With Jinfo Consulting, you get accountability, fine-tuned guidance and industry-wide perspective.