Virginia Power

Virginia is an information professional, academic and technology specialist with over 35 years" information services management experience within academic and cultural heritage sectors. She is a lecturer at the University of the West of England (UWE) in Bristol, lecturing in Information Science & Management. Virginia is studying for her PhD in participatory culture and the role of social media affordances in information repositories. She is CILIP"s Information Manager of the Year 2018.
Virginia"s academic specialisms include knowledge management in corporate settings and human aspects of technological development, including user experience, human-computer interaction, information governance and compliance, and business technology ethics. She can be contacted via UWE.
Articles by Virginia Power:
---

My Favourite Tipples from a university lecturer in information science & management
Thursday, 8th November 2018
My Favourite Tipples are shared by Virginia Power, a lecturer and PhD student at the University of the West of England, Bristol. Virginia is CILIP'S UKeIG/K&IM specialist groups Information Manager of the Year 2018. She shares some of the specialised resources she uses for her lectures and tutorials in information science and management.
What's new at Jinfo?
Jinfo Overview - August 2021
View on YouTube
---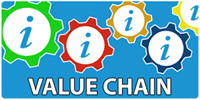 Five newly recorded webinars on how to complete the activities in our Focus on Value Chain now available.
---
Express value the way stakeholders do with Value Chain analysis
"I can now sit in a meeting with my stakeholders and articulate the role information plays in their workflows. They understand our contribution to their success." Information Senior Scientist, heavy manufacturing industry
---
With Jinfo Consulting, you get accountability, fine-tuned guidance and industry-wide perspective.