Sarah Bicknell

Sarah works in the Information Services Department of mid-tier accountancy firm RSM (formerly Baker Tilly). Having worked there for six years she has experience in both research and intranet work in the professional services environment. She has also had experience in public and academic libraries. Sarah studied Latin at St Andrews and then went on to do the Information Science Masters at City University in London. She is now also a member of the events committee for SLA Europe.
Articles by Sarah Bicknell:
---

How technology is transforming professional services
Wednesday, 23rd January 2019
This article looks at some of the challenges of technology developments on information workers in professional services. It examines the "lifecycle" of information in this environment and examines examples of technology that have impacted each aspect. What we see is that technology brings enormous potential but also added dangers.
What's new at Jinfo?
Jinfo Overview - August 2021
View on YouTube
---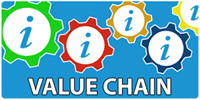 Five newly recorded webinars on how to complete the activities in our Focus on Value Chain now available.
---
Express value the way stakeholders do with Value Chain analysis
"I can now sit in a meeting with my stakeholders and articulate the role information plays in their workflows. They understand our contribution to their success." Information Senior Scientist, heavy manufacturing industry
---
With Jinfo Consulting, you get accountability, fine-tuned guidance and industry-wide perspective.