Chrissy Street

Chrissy has worked extensively in strategic management roles during her career, most recently for a magic circle law firm. She is a qualified information services professional and continuous improvement project practitioner with a varied background in knowledge & information services, business research, project management, procurement and supplier relationship management. She is skilled in people management; restructuring and business change; implementation of best practice procurement and subscriptions purchasing; library & information strategy; budget management; stakeholder management and negotiation. Outside of work she enjoys the gym and confesses to being a body combat addict!
Articles by Chrissy Street:
---

Benefits of adding Supplier Relationship Management (SRM) to your licensing approach
Monday, 25th November 2019
If you are liaising with suppliers on a regular basis then you need to read our article on using Supplier Relationship Management (SRM) techniques. We look at how it's defined and outline five key benefits of adding SRM to your licensing approach when dealing with high-value relationships.
---

Balancing your information strategy to meet end-user needs and business strategy needs
Friday, 8th March 2019
When designing an information strategy, it's important to achieve a balance between meeting end-user needs and the overall business strategy of the organisation. This presents a challenge to the information professional who must consider other competing demands. Chrissy Street highlights what to think about when designing your information strategy whilst keeping in mind a balance between meeting end-user needs and strategic business needs.
What's new at Jinfo?
Jinfo Overview - August 2021
View on YouTube
---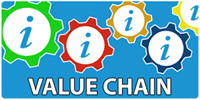 Five newly recorded webinars on how to complete the activities in our Focus on Value Chain now available.
---
Express value the way stakeholders do with Value Chain analysis
"I can now sit in a meeting with my stakeholders and articulate the role information plays in their workflows. They understand our contribution to their success." Information Senior Scientist, heavy manufacturing industry
---
With Jinfo Consulting, you get accountability, fine-tuned guidance and industry-wide perspective.