Anne Barker

Anne N. Barker is an information specialist in the legal department at Genentech. After spending 10 years learning the language of patents at a law firm, she made the move "in-house" in 2015, which allowed her to capitalise on her patent knowledge while learning yet another new language in biotech. She is an active member of SLA, a budding glass blower, a raccoon rehabilitator (physically and reputationally speaking), and a cider enthusiast. Find Anne on LinkedIn and, at conference time, on Twitter.
Articles by Anne Barker:
---

My Favourite Tipples from a patent and biotech information specialist
Wednesday, 20th March 2019
My Favourite Tipples are shared by Anne Barker, an information specialist in the legal department at Genentech. Anne shares some of her preferred resources in areas from patents to healthcare conference posters and human gene databases.
What's new at Jinfo?
Jinfo Overview - August 2021
View on YouTube
---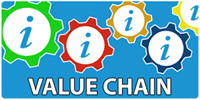 Five newly recorded webinars on how to complete the activities in our Focus on Value Chain now available.
---
Express value the way stakeholders do with Value Chain analysis
"I can now sit in a meeting with my stakeholders and articulate the role information plays in their workflows. They understand our contribution to their success." Information Senior Scientist, heavy manufacturing industry
---
With Jinfo Consulting, you get accountability, fine-tuned guidance and industry-wide perspective.