Pivoting to meet the GenAI challenge
Jinfo Community
13th December 2023

Description
Many organisations are getting to grips with Generative AI (GenAI) and how the technology will support and enable them to meet their business goals.
Information services teams have the potential to play a critical role in this work, but it can be challenging to reposition the team and colleagues' perceptions to support GenAI.
We are very excited to welcome Sarah Fahy, Global Head of Allen & Overy Research & Library, who will share her insights into the practical steps she is taking to establish her teams' credentials and their priorities as they pivot to support GenAI.
Community sessions are available to clients with a Jinfo Subscription, and spaces are limited. Register below now to avoid disappointment.
Date:
Wednesday, 13th December 2023 at 08:00 Pacific / 10:00 Central / 11:00 Eastern / 16:00 (GMT) / 17:00 Europe, 60 minutes.
Community Registration
Access to Jinfo Content and Community is available through a Jinfo Subscription.
Does your organisation have a Jinfo Subscription?
"Not yet"
Access to this Community session is available through a Jinfo Subscription, which will help your organisation:
Save time and money
Re-invent information services
Define, measure and communicate information value.
---
"Don't know"
Please complete the Registration Enquiry form below and we will check if your organisation has access and contact you to confirm either way.
---
"Don't know"
Contact us to find out if your organisation already has a Jinfo Subscription.

Or use the 'Text Chat' button at the bottom-right of this page for immediate assistance.
About this Event
Community event title: Pivoting to meet the GenAI challenge
What's new at Jinfo?
Pivoting to meet the GenAI challenge
Community session
13th December 2023
---
Empower your stakeholders
Blog posting
5th December 2023
---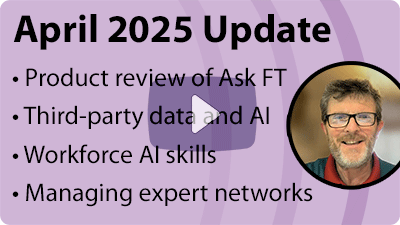 Jinfo December 2023 Update
YouTube video
7th December 2023