Crafting a scorecard (step two - select components)
Jinfo Webinar
20th April 2021
[Focus: Content Portfolio]
Description
There are a lot of things you could measure and capture on your scorecards, but which components are the most important ones for achieving your goals?
In this webinar, we walked through the activity to understand component and analyse which fit with your goals and desired results.
To get the most out of this recording, review this article from our Scorecards track our Focus on Content Portfolio:
Webinar Recording and/or Slide Deck
This event has passed, and a recording and/or slide deck is available for Jinfo clients.
If you are a client, please sign in here so that we can check your account:
About this Webinar
Webinar title: Crafting a scorecard (step two - select components)

Related articles:
What's new at Jinfo?
Building competitive advantage
9th February 2023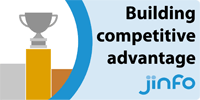 Community dates
---
[New] The Jinfo Subscription is back by popular demand!
---
"Happy anniversary Jinfo, née FreePint"
4th January 2023
25 years, 600 editions, 500 contributors. Jinfo has come a long way, and so has the value of information work. However, information leaders still need to win the war for talent, hold vendors to account, and keep an eye on competitors.
Read on the Blog