A simple CRM for strategic stakeholder engagement
Jinfo Webinar
24th January 2022
[Focus: Stakeholder Engagement]
Description
Stakeholder engagement enters every part of an information team's daily work. And yet connecting with stakeholders in a meaningful way remains a challenge for many information teams who are under-resourced and supporting people across locations and functions.
In this webinar, Julianna Jergic-Biro, external information specialist with Syngenta, shares how her team addressed this challenge by building a management tool into its strategy: a simple – and free – customer relationship management tool (CRM) to keep its engagements strategic and on track.
View this webinar for a unique peek into a practical tool that can be developed by any team with a bit of time, creativity and access to spreadsheet functions.
You'll also learn how the Syngenta team:
Prioritised different goals and needs in developing this tool
Now uses the tool on a day-to-day basis
Considers and incorporates ongoing improvements into its system.
Stakeholder engagement requires your strategic thinking. You can free up your capacity for strategy by moving the technical details of management into a simple tool like this CRM.
Webinar Recording and/or Slide Deck
This event has passed, and a recording and/or slide deck is available for Jinfo clients.
If you are a client, please sign in here so that we can check your account:
About this Webinar
Webinar title: A simple CRM for strategic stakeholder engagement
What's new at Jinfo?
Building competitive advantage
9th February 2023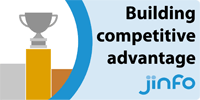 Community dates
---
[New] The Jinfo Subscription is back by popular demand!
---
"Happy anniversary Jinfo, née FreePint"
4th January 2023
25 years, 600 editions, 500 contributors. Jinfo has come a long way, and so has the value of information work. However, information leaders still need to win the war for talent, hold vendors to account, and keep an eye on competitors.
Read on the Blog