Centre of Excellence (step six - making strategy operational)
Jinfo Webinar
15th June 2022
[Focus: Centre of Excellence]
Description
For step six in Jinfo's Focus on Centre of Excellence, you will prototype an operational framework in which you can do the work of translating your vision for evolution into manageable projects with clear timelines.
Once you have reviewed this recorded webinar, complete the activity in the PDF, "Step six - prototype your management environment". You'll use, adapt and refine your prototype into a standard for ongoing progress.
Webinar Recording and/or Slide Deck
This event has passed, and a recording and/or slide deck is available for Jinfo clients.
If you are a client, please sign in here so that we can check your account:
About this Webinar
Webinar title: Centre of Excellence (step six - making strategy operational)
What's new at Jinfo?
Holding vendors to account
Thursday, 15th December 2022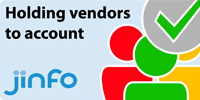 Community dates
---
[New] The Jinfo Subscription is back by popular demand!
13th October 2022
---
"Are you in a "proactive state of resilience"?"
15th November 2022
With the year end looming, our clients are closing out their 2022 deliverables and turning their attention to 2023 and the challenge of a more uncertain operating environment.
Read on the Blog