Assessing your organisation's information skills maturity
Jinfo Webinar
4th April 2017
[Research Focus: Developing an information-savvy workforce through strategic alignments]
Description
We know that information skills are essential for today's knowledge workers, and yet they are rarely formally taught or coached by organisations. Nor do they tend to show up on workforce development plans.
An assessment of your organisation's maturity for information skills will enable you to:
Address the risks information skills gaps present to the business
Prioritise partnerships within the business (e.g. human resources, training, specific business units) to address skills gaps
Create and implement a plan for improving the level of information skills across the organisation.
This Jinfo Webinar provides practical tips on:
Identifying the key characteristics of a mature environment
Selecting and applying tools for assessing skill levels in different parts of your business
Analysing results and developing your next steps to improve information skills.
Webinars are open to licensed users on a Jinfo Subscription. Spaces are limited.
If you have a question about this event, or are unsure if you have a subscription, please contact us.
Date:
Tuesday, 4th April 2017 at 08:00 Pacific / 10:00 Central / 11:00 Eastern / 16:00 (BST) / 17:00 Europe, 60 minutes.
Webinar Recording and/or Slide Deck
This event has passed, and a recording and/or slide deck is available for customers with a Jinfo Subscription.
If you have a Jinfo Subscription, please sign in here so that we can check your account:
If you are considering purchasing a Jinfo Subscription and would like to request guest access to view the recording, please contact us.
About this Webinar
Webinar title: Assessing your organisation's information skills maturity
What's new at Jinfo?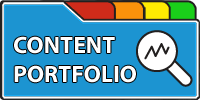 Latest in this Focus: Scorecards. Use Jinfo's step-by-step methodology to craft scorecards to strengthen negotiations, communicate with stakeholders, compare value of products and manage your portfolio more strategically.
---
What's your priority?
Use our self-assessment worksheet to determine your pathway towards more strategic portfolio management: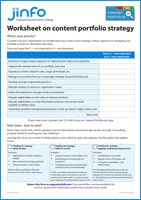 ---
A Jinfo Subscription gets you access to activity-based content to move your projects forward, plus dynamic peer group discussions on meaty topics.