Analysing the value chain - your starting point for meaningful communication
Jinfo Webinar
21st July 2020
[Focus: Value Chain]
Description
Jinfo's Focus on Value Chain is about demonstrating how the information team contributes to the goals of their organisation. The key is to present your work and impact in your stakeholder's context for value: how they measure success.
Review the article in Jinfo's article "Your contributions to the value chain" and then listen to this recorded Webinar of a walk-through of the activities for demonstrating value. Get a practical overview through this 30-minute session to make progress with your own stakeholder communication.
Webinar Recording and/or Slide Deck
This event has passed, and a recording and/or slide deck is available for Jinfo clients.
If you are a client, please sign in here so that we can check your account:
About this Webinar
Webinar title: Analysing the value chain - your starting point for meaningful communication
What's new at Jinfo?
Building competitive advantage
9th February 2023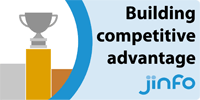 Community dates
---
[New] The Jinfo Subscription is back by popular demand!
---
"Happy anniversary Jinfo, née FreePint"
4th January 2023
25 years, 600 editions, 500 contributors. Jinfo has come a long way, and so has the value of information work. However, information leaders still need to win the war for talent, hold vendors to account, and keep an eye on competitors.
Read on the Blog