Joanna Ptolomey

Joanna is a freelance information consultant and analyst. She started her career in information as a clinical librarian in the NHS before moving to global consultancy group DTZ. Prior to working in the information sector Joanna was a project planning engineer in the construction industry for 10 years.
She hopes to help people use information for assessing risk, making decisions and in governance. She is particularly interested in inequalities issues such as accessibility, information literacy and the information divide especially in the healthcare sector. She is the author of a chapter "Digital divide and accessibility" in Government Information Management in the 21st Century. She is also the author of the book Taking charge of your career: a guide for library and information professionals.
You can follow Joanna on Twitter.
Articles by Joanna Ptolomey:
---

All a-flap about maps
Wednesday, 27th June 2012
Mapping and visualisation tools are not only gaining popularity as an enabler for many of the products we use and project development on a day to day basis as I considered in a previous LiveWire post. The mapping products themselves are generating some interesting news around competition, market penetration and privacy.
---

Cookies law already crumbling
Wednesday, 27th June 2012
The LiveWire has been following the countdown and the introduction of the new EU cookie over this last month or so. The questions now are so what and any impacts so far?
---

Open and shared data saves lives
Monday, 25th June 2012
Not all data can be truly open as there are privacy issues. But making data more sharable, such as health records, could save lives. Efforts on this front were featured at a recent World Bank event focused on free and open source geographic information systems and mapping tools that will strengthen disaster risk reduction, humanitarian relief and sustainable development.
---

Leveling the playing field in the journal publishing game
Wednesday, 13th June 2012
You know the saying – not all research is equal and that is one significant factor that can be reflected in which journal opts to publish your research. But what if you don't know how to play the game, have limited knowledge of western publishing, few contacts and English is not your first language – what are your options?
---

Social media benefits for the healthcare business
Tuesday, 12th June 2012
Medical director for the Mayo Clinic, Farris Timimi MD, believes that social media is not an addition to your job as a doctor and healthcare provider. It is a part of your job as a doctor and it cannot be ignored as a potential benefit to the system. So, if we trust doctors with a scalpel and surgical procedures should we not we not trust them with social media tools?
What's new at Jinfo?
Jinfo Overview - August 2021
View on YouTube
---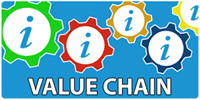 Five newly recorded webinars on how to complete the activities in our Focus on Value Chain now available.
---
Express value the way stakeholders do with Value Chain analysis
"I can now sit in a meeting with my stakeholders and articulate the role information plays in their workflows. They understand our contribution to their success." Information Senior Scientist, heavy manufacturing industry
---
With Jinfo Consulting, you get accountability, fine-tuned guidance and industry-wide perspective.