Martin Belam

Martin Belam is Information Architect for guardian.co.uk. Before joining The Guardian, he worked as an Internet Consultant with organisations like the BBC, Sony, Vodafone and the Science Museum.
Martin also blogs about information architecture and the media at currybet.net and can be found on Twitter as @currybet.
Articles by Martin Belam:
---

Space shuttles and parrots: Providing incentives for collaboration and knowledge sharing
Tuesday, 20th March 2012
Can prizes encourage collaboration and knowledge sharing on the corporate intranet? ConocoPhillips and BP Amoco seem to think so.
---

Grovo's fresh approach to video tutorials
Wednesday, 14th March 2012
Video site Grovo is taking a new approach to providing tutorial content about the web - promising that their up-to-date content makes Google searches for similar topics look stale by comparison. But does it come at too high a price?
---

Do you have a social media risk strategy?
Wednesday, 7th March 2012
A recent study has suggested that many UK companies have a "chaotic" social media policy. Where can you find resources to help mitigate social media risk to your organisation?
---

Duedil.com ushers in a new era of open corporate data
Wednesday, 29th February 2012
For a long time the preserve of dusty legal and financial databases, services like Duedil and Openly Local are making the corporate financial data of the UK easier than ever for people to research on the web.
---

Who influences the influencers? Visualising Twitter
Wednesday, 22nd February 2012
Visualising Twitter networks is one way to help verify social media sources and pull presentable data out of the noise. But how do you go about doing it? Sam Martin has written up a great case study to help you learn.
What's new at Jinfo?
Jinfo Overview - August 2021
View on YouTube
---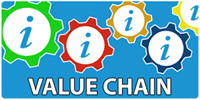 Five newly recorded webinars on how to complete the activities in our Focus on Value Chain now available.
---
Express value the way stakeholders do with Value Chain analysis
"I can now sit in a meeting with my stakeholders and articulate the role information plays in their workflows. They understand our contribution to their success." Information Senior Scientist, heavy manufacturing industry
---
With Jinfo Consulting, you get accountability, fine-tuned guidance and industry-wide perspective.