Arthur Weiss

Arthur Weiss is the managing director of AWARE, specialising in marketing/competitive intelligence training, analysis and research. Arthur has worked in the information industry since the 1980s, initially with Dun & Bradstreet and now with AWARE, established in 1995.
He writes and lectures on a range of marketing & competitive intelligence related topics, leading workshops in Europe, Asia and North America.
Arthur is a Chartered Marketer, a member of SLA, the Association of MBAs, and the Association of Independent Information Professionals (AIIP).
Contact Arthur at his website at www.marketing-intelligence.co.uk, Facebook at http://www.facebook.com/AWAREmarketing, Twitter at @awareci and via email at a.weiss@aware.co.uk.
Articles by Arthur Weiss:
---

Open source intelligence to uncover information on companies, organisations, groups and people
Tuesday, 27th November 2018
Open source intelligence (OSINT) uses publicly available sources to gather intelligence for purposes ranging from basic recruitment checks on an individual to due diligence research for M&A purposes to in-depth fraud investigations and more. Search engines are the starting point, but deep web databases and social media searches are all part of the OSINT searchers toolkit. This article discusses approaches for finding open source intelligence with a focus on free sources.
---

My Favourite Tipples from an online intelligence investigator
Wednesday, 5th October 2016
My Favourite Tipples are shared by Arthur Weiss - competitive intelligence researcher & trainer - who regularly discovers material uploaded to the web that should be protected or secret.
---

My Favourite Tipples from a Marketing Intelligence Specialist
Wednesday, 5th November 2014
My Favourite Tipples are shared by Arthur Weiss. He shares some of his favourite online resources for researching macroeconomic statistics and hard-to-find financial data to the latest thinking on business strategy.
---

Detecting online plagiarism
Wednesday, 8th August 2012
Every organisation that publishes content on the web needs to be aware of the potential for plagiarism and how to stay alert to it. Plagiarism can risk your organisation's reputation, as well as put revenue at risk.
---

Plagiarism: The problem, prevention and detection
Wednesday, 8th August 2012
Online plagiarism (or website plagiarism) is the copying of website or blog content and passing it off as one's own material on another website. Generally this also involves a breach of copyright. The problem for content owners is detecting online plagiarism and stopping it.
What's new at Jinfo?
Jinfo Overview - August 2021
View on YouTube
---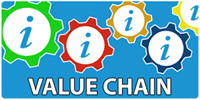 Five newly recorded webinars on how to complete the activities in our Focus on Value Chain now available.
---
Express value the way stakeholders do with Value Chain analysis
"I can now sit in a meeting with my stakeholders and articulate the role information plays in their workflows. They understand our contribution to their success." Information Senior Scientist, heavy manufacturing industry
---
With Jinfo Consulting, you get accountability, fine-tuned guidance and industry-wide perspective.