Perrin Kerravala

Perrin Kerravala is a Senior Librarian at Export Development Canada (EDC). EDC is Canada"s export credit agency, offering innovative commercial solutions to help Canadian exporters and investors expand their international business. Before joining EDC, Perrin worked as an Information Specialist at the Canadian federal Department of Foreign Affairs and International Trade and at BMO Capital Markets, an investment banking firm.
Articles by Perrin Kerravala:
---

Tackling Company and Industry Research - FreePint for Banking & Finance Professionals
Wednesday, 24th September 2014
Perrin Kerravala highlights her top banking and finance industry picks from FreePint from the last six months.
---

Product Evaluations - a Holistic View
Monday, 7th July 2014
Author Perrin Kerravala describes her holistic view of product evaluations, which should include input from various organisation stakeholders, such as users, IT, and legal.
---

Product Evaluations - Completing a Needs Assessment
Friday, 4th July 2014
Author Perrin Kerravala reflects on her 10+ years of procuring information products and writing convincing evaluations, and shares her best practices.
---

WordsAnalytics: Fully Leverage Your SEC Filings Search
Thursday, 12th June 2014
Author Perrin Kerravala outlines the frustrating experience of searching for information with most SEC filings search tools, and explains how WordsAnalytics, a text-mining tool, can help.
---

Mini Review: WordsAnalytics
Thursday, 12th June 2014
Author Perrin Kerravala reviews WordsAnalytics, a powerful text mining tool for SEC filings. Featuring impressive capabilities such as Compare Reports, Sentiment Scores and Find Similar Paragraphs, WordsAnalytics is ideally suited for due diligence compliance and competitive intelligence research.
Reports by Perrin Kerravala:
---

FreePint Report: Product Review of Transactional Track Record
Wednesday, 29th January 2014
Transactional Track Record (TTR) offers business intelligence on Spanish and Portuguese language market activity. Forward looking deals and opportunit...
---

FreePint Report: Product Review of Global Financial Data
Monday, 5th August 2013
Author Perrin Kerravala"s review of Global Financial Data Inc. (GFD), shows how the provider of financial and economic time-series data widely used by...
---

FreePint Report: Product Review of FirstRain
Wednesday, 26th September 2012
FirstRain is a powerful solution for delivering web and social media content on companies and industries, designed specifically for account sales and...
What's new at Jinfo?
Jinfo Overview - August 2021
View on YouTube
---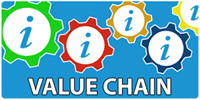 Five newly recorded webinars on how to complete the activities in our Focus on Value Chain now available.
---
Express value the way stakeholders do with Value Chain analysis
"I can now sit in a meeting with my stakeholders and articulate the role information plays in their workflows. They understand our contribution to their success." Information Senior Scientist, heavy manufacturing industry
---
With Jinfo Consulting, you get accountability, fine-tuned guidance and industry-wide perspective.