Penny Leach

Articles by Penny Leach:
---

SLA Conference 2011: A Focus on the discussion...
Thursday, 16th June 2011
---

If you don't ask, you don't get...
Thursday, 1st April 2010
On 23 March 2010 the Commercial Legal and Scientific Group (CLSIG) of CILIP (the UK's library association) held its AGM. This was followed by a practical presentation by Fiona Fogden on negotiating contracts and firm-wide licences from the viewpoint of an information services manager.
---

Triumphing in economic uncertainty
Tuesday, 12th May 2009
---

From Unemployment to Self-Employment
Saturday, 25th April 2009
---

ebic... reimagined
Thursday, 16th April 2009
What's new at Jinfo?
Jinfo Overview - August 2021
View on YouTube
---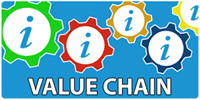 Five newly recorded webinars on how to complete the activities in our Focus on Value Chain now available.
---
Express value the way stakeholders do with Value Chain analysis
"I can now sit in a meeting with my stakeholders and articulate the role information plays in their workflows. They understand our contribution to their success." Information Senior Scientist, heavy manufacturing industry
---
With Jinfo Consulting, you get accountability, fine-tuned guidance and industry-wide perspective.