John A. Walsh

John A. Walsh is communications and marketing manager for the Special Libraries Association where he"s responsible for business development, social media presence, and public relations and communications. He"s currently helping plan partnerships around the upcoming SLA 2012 Annual Conference & INFO-EXPO on behalf of SLA"s supporters. Prior to joining SLA, he co-founded and instructed at a collegiate test (SAT) preparation programme in his home town of Springfield, Virginia, USA. In his spare time he enjoys playing and watching sports, and finding new places to try new food.
Articles by John A. Walsh:
---

Managing your very own moment of insignificance
Monday, 2nd April 2012
The nature of a successful business is drastically different today than it was just a few years ago. The nature of a successful, growing professional has transformed too. Why the change? So many aspects of doing business involve managing (or failing to manage) communication.
What's new at Jinfo?
Jinfo Overview - August 2021
View on YouTube
---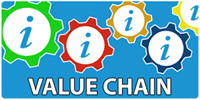 Five newly recorded webinars on how to complete the activities in our Focus on Value Chain now available.
---
Express value the way stakeholders do with Value Chain analysis
"I can now sit in a meeting with my stakeholders and articulate the role information plays in their workflows. They understand our contribution to their success." Information Senior Scientist, heavy manufacturing industry
---
With Jinfo Consulting, you get accountability, fine-tuned guidance and industry-wide perspective.